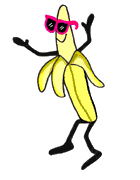 About 10 minutes after I put Manny to bed tonight, I could hear him in the kitchen.




The next thing I knew, he came into the office and asked, "Manny have banana".




I replied, "No Manny, it is bedtime."




He said to me, "No Mama, it's banana time".




It was very difficult to keep a straight face.